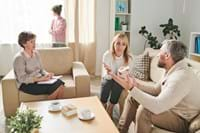 ASV - Support for Families
Are you presently affected by the addiction of a partner, family member or friend?
Whatever your current circumstances and needs, ASV's Family Solutions Program will lead you and your family to positive outcomes and a much brighter future by providing practical and emotional support for families of addicts.
What is an essential personal gift you could receive or a goal you could achieve now?
Peace in the home?
Are you getting your life back?
Confidence that a loved one can get on with their life?
Freedom to enjoy your life?
Are you getting your family back together?
The Family Solutions Program will help you achieve these types of personal goals. The Program requires a commitment to behavioural change by those affected by the person's addiction to successfully implement the practical strategies to reduce this person's addictive behaviour.
How does the Family Solutions Program Work?
This is how the Program works.
Our professional meets with you to discuss how problematic behaviour has affected you and your family.
Our professional provides you with new, practical, relevant and effective responses to this behaviour.
Our professional discusses in detail all the advantages and disadvantages of current strategies and decides if, when and how you should respond differently.
Our professional evaluates current support systems and develops a new program of support and behaviour change tailored to your particular family's needs and goals.
This Program will help you to feel empowered. You require empowerment to affect changes in your loved one's addictive behaviour practically. The addicted person needs empowerment to become independent from their addictive behaviour. This means that before liberation can be realised, dual empowerment programs must work in parallel to help everyone recover – a program for you and one for the addicted person.
This Program is based on years of evidence and analysis of addictive behaviours and practical therapeutic outcomes and is administered by accredited, highly qualified and experienced specialist professionals.
Call us confidentially to discuss how the Family Solutions Program can assist you and your family.
In this area of addictive substances and behaviours, all individuals and families are unique. So too, are their problems and the alternative solutions. Our experienced, professional therapists will discuss your particular circumstances and family issues with you in confidence and suggest the most appropriate way forward.
"Are you presently affected by the addiction of a partner, family member or friend? The ASV family solutions program is specifically developed to support the loved ones of people challenged by an addiction to drugs or alcohol. The program provides information, education and practical and emotional support allowing new strategies to be developed that can more specifically support positive change across the family dynamic." - Paul - ASV Help Addiction Program 2023.