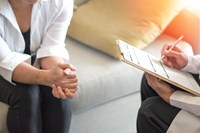 Why ASV?
There are many reasons to seek addiction treatment. Some of the most common causes include the following:
To improve overall health: Substance abuse can negatively impact physical and mental health. Seeking treatment can help improve overall health and well-being.
To improve relationships: Addiction can strain relationships with family and friends, and seeking treatment can help improve and rebuild these relationships.
To improve quality of life: Substance abuse can interfere with daily activities and responsibilities, and seeking treatment can help improve productivity and overall quality of life.
To reduce the risk of overdose: Substance abuse can increase the risk of overdose, which can be life-threatening. Seeking treatment can help reduce this risk.
To reduce the risk of legal problems: Substance abuse can lead to legal issues, such as arrests for driving under the influence or possessing illegal substances. Seeking treatment can help reduce the risk of legal problems.
Seeking treatment, rehabilitation and support for challenges with Drugs and Alcohol can be difficult. Many people either cannot find the money to pay for costly private rehabilitation centres, don't have private health insurance, or, due to their situation, cannot wait for a bed in the public sector.
The ASV Rehab at Home treatment approach is based on the Living in Balance program developed by Danya International and distributed by Hazelden (USA). Evidence-based treatment is the gold standard for helping individuals with substance abuse and mental health issues, as supported by SAMHSA's endorsement of such programs and its inclusion on NREPP's US registry. This type of care is considered an invaluable resource due to its proven effectiveness when seeking assistance for challenges with addictive patterns and behaviours.
Jason Bowman, Manager of ASV, has been working and managing services in the alcohol and other drug sectors for over 15 years in public and private settings.
"The Living in Balance program allows people and their families to access an affordable recovery solution. Our team at ASV boasts a deep understanding of addiction and family dynamics, as well as valuable local resource links for those affected. Every day we witness individuals on their path towards healing thanks to this reliable program – one enriched by our staff's empathetic relationships built out of the shared experience with addiction and recovery alike."
At ASV, we understand how important it is to respond as promptly as possible to meet the needs of the individual or their loved ones. We provide people with access to treatment and support whenever and wherever they need it.
The ASV Rehab at Home program provides affordable, evidence-based addiction rehabilitation options delivered in the privacy of peoples' homes, where they feel safe and supported.
"It was time for me to grow up and to get my act together, I had been partying way too long, and the fun times were well and truly over. I began searching for a residential Drug and Alcohol rehab option but settled on the ASV Rehab at Home program. My decision was made easier after an initial positive conversation with the ASV telephone consultant. The next day I was able to begin. My GP was able to support me with my home detox. My workplace was incredibly understanding! Twelve months later, I am a new man. Thanks to the ASV, drug and alcohol rehabilitation centre team, I have my life back, and my future is positive." - Daniel.
"Addiction recovery is a complex and multifaceted process; it is essential to understand the various components necessary to sustain it. According to the National Institute on Drug Abuse (NIDA, 2020), the components of addiction recovery include 1. Abstinence is often seen as the cornerstone of addiction recovery and involves abstaining from the use of the substance associated with the addiction. 2. Relapse prevention involves identifying and addressing the triggers that may lead to relapse and developing new coping strategies and supports to help prevent it. 3. Professional treatment: Professional treatment plays a vital role in addiction recovery and can include a variety of therapies and interventions, such as cognitive behavioural therapy (CBT), motivational interviewing (MI), and 12-step programs. 4. Support: Recovery from addiction cannot be achieved alone. Individuals in recovery need a robust support system of family, friends, and professionals to help them through the process. 5. Medication: In some cases, medication may be necessary to sustain recovery. Medications such as buprenorphine, naltrexone, and methadone can help individuals manage their addiction and reduce their risk of relapse." - Jason Bowman - ASV Melbourne Rehab Centres 2023.
---